Wake on LAN/WLAN access should be disabled
Wake on network access (commonly known as Wake on Lan, WOL) enables your Mac to automatically start after a special prepared network package was sent to your Mac. While this is very comfortable for remote management or awaking network attached storage, from a security perspective this should be disabled.
Imagine your Mac is in sleep mode over night. An attacker starts your Mac and has the whole night time to attack your Mac before you are able to realize it. If you put your Mac in sleep mode or turn it off, you should be sure it does so.
How to fix it
macOS 10.11 – 11.0
Go to "System Preferences" > "Energy Saver"
Deselect "Wake for Ethernet network access" (Ethernet or network or Wi-Fi)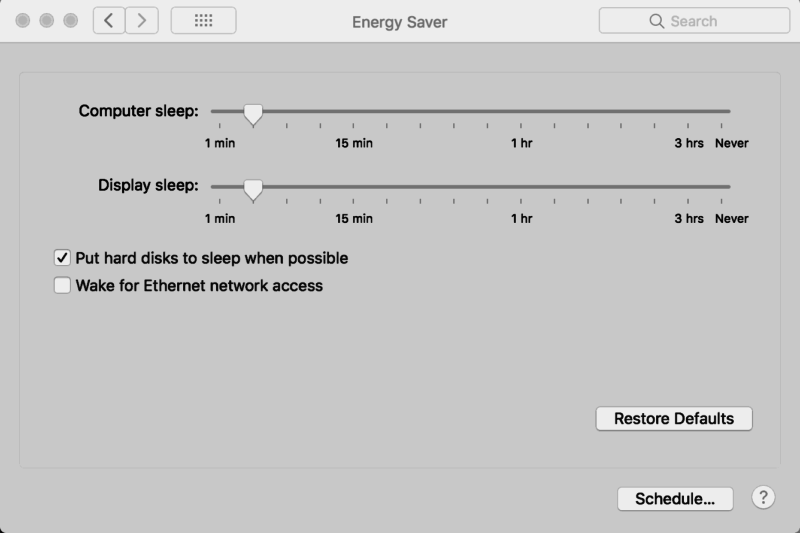 PLEASE READ THE FOLLOWING TIP AND DISCLAIMER!
Keep in mind: not every security and privacy setting is suitable for everyone. Enhancing the security can lead in losing functionality and/or comfort.
Before making changes, please backup your Mac! Do not make too many change at once. After changing your Mac, check if your normal usage of your Mac has changed in a way which fits to you. Are your really willing to loose some functionality and/or comfort?
Most important is, that you learn and understand what are the advantages and disadvantages of the security settings and that you are aware about the capabilities and risks of your Mac configuration.
To skip this result message from your next security scan, you can deactivate this check. FAQ: How to deactivate a check.
CHECK RESULTS BY SIMPLEUMCHECK DO NOT COVER ALL ASPECTS OF POSSIBLE SECURITY CHECKS OR MAYBE INCORRECT OR INCOMPLETE. THE RESULTS ARE ONLY CLUES FOR RECOMMENDATIONS TO IMPROVE SECURITY AND PRIVACY ON THE MAC.
The use of SimpleumCheck, the checks and FAQ articles are provided under the SimpleumCheck End User License Agreement (EULA).