A new app for the Apple Macintosh makes encrypting a breeze
Simpleum Media GmbH offers with SimpleumSafe for Apple Mac OS X an easy to use App for password-based encryption of personal and professional data. Thanks to proven AES-256 encryption technology which is also used by governments, banks and industrial enterprises, all kinds of digital information are well protected against attacks from the Internet and access by unauthorized persons.
With SimpleumSafe the customer can create and use different Safes at various locations such as hard disk, USB flash drive or cloud storage. The size and number of files to be encrypted is only limited by the capacity of the selected storage medium.
SimpleumSafe for Mac is immediately available in the Apple Mac App Store – in German and English. (App-Download: https://itunes.apple.com/us/app/simpleumsafe-now-everybody/id1081798042?l=de&ls=1&mt=12)
"With SimpleumSafe we have taken a first step towards the fulfillment of our corporate philosophy," says Johannes Golombek, Managing Director of Simpleum Media GmbH. "We have set ourselves the objective to promote the responsible use of personal and professional data and to enable the secure archiving of your digital life."
Ingeniously simple, simply ingenious
SimpleumSafe combines intuitive operation and ease of use. Much of what users have already learned during daily use of the Mac can be applied using the Encryption-App. Files of any size and various formats can be transferred by drag-and-drop into the safe and can be handled as simple as conventional files.
Opening the safe and decryption of files is done via a user-defined password. Moreover, SimpleumSafe offers numerous tools for importing, organizing, tagging, and editing of the files.
SimpleumSafe is designed for the average consumer, who wants to protect and archive personal information, as well as for companies who are interested to protect personal information and secret documents from unauthorized access.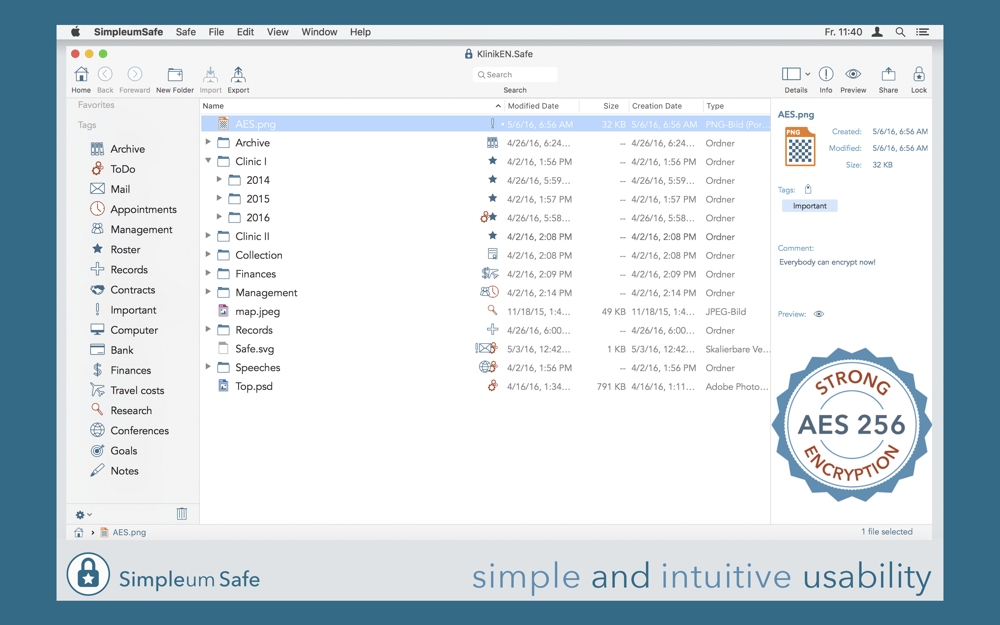 Simpleum Media GmbH was founded in January 2016 in Hamburg (Germany) and promotes the responsible use of personal and professional data by straightforward operability of software.