"Best of Apps 2017" of Innovation-Prize-IT initiative 2017
We have been voted into the "Best of Apps 2017" list in the category "IT Security" at the "Innovation-Prize-IT" initiative medium sized businesses 2017.
As a German startup, Simpleum Media GmbH would like to make the protection of digital data available to small and medium-sized enterprises without any major introduction projects.
The German middle class is a select target for cyberspionage and the annual economic damage is enormous (estimated about 50 billion euro 2015).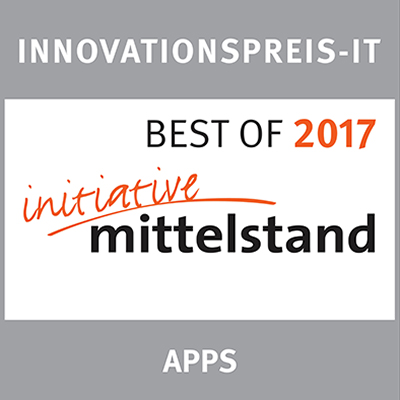 With SimpleumSafe, strong and easy-to-use encryption of business secrets is possible on Apple macOS and mobile devices (iOS).
Outstanding is the complete encryption, even while documents are processed eg in a text editor. The documents remain encrypted all the time. Thus the attack possibilities of espionage tools or extortion trojans are extremely reduced.
In spring 2017, a continuous encrypted synchronization of the data between the devices is added, so that also cloud storage can be safely used. The data remain encrypted all the time.
Easy access and ease of use contribute to a high degree of acceptance in the implementation of encryption from the secretariat, through the field service to management.
With SimpleumSafe a trustworthy encryption solution from Germany is available, which is not subject to laws or presidential decrees of other countries.