Password - 12 creative tips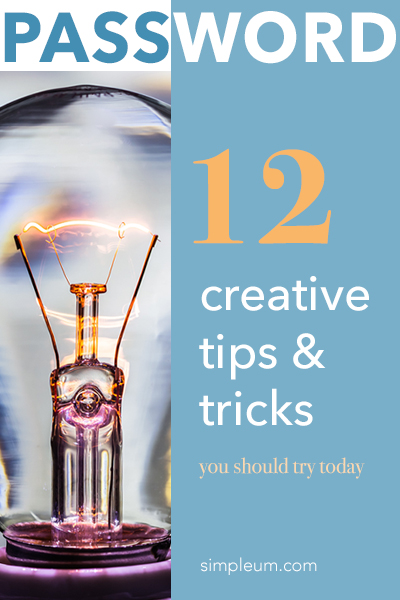 Today we would like to give you some recommendations and tips on the topic of password.
Nowadays passwords are something like door or safe keys to something important, secret or deserving special protection. For this reason, they  deserve our special care. Always consider what other, malicious people can do with your account on your behalf.
Some tips are a bit more elaborate beforehand, but in the long run you can get used to a course of action that does little work.
Basically, the recommendation has prevailed that long passwords are better than complex ones.
Good tips on how to create a strong password are provided by the Federal Office for Information Security (BSI).
Read the (German) article here.
1. Clean up online services and accounts
First, check where you use online services and own accounts. You will be surprised what has been unused for a long time. Spit up outdated accounts and services and delete them. Many of these old accounts still have weak passwords. If these have been hacked, your data, e-mail addresses, etc. will wander through the web.
If you are affected, react immediately!
Make the effort to clean up your accounts. It's worth it!
2. For each account a new password
Give each of your remaining accounts an own password, this will give you higher security. If you have assigned a single password for all accounts, a hack puts all your accounts at risk.
3. Change passwords regularly
Make it a habit to change your passwords on a regular basis in all accounts. It is best to do so every 30 days, but at least every 90 days. If you have previously deleted superfluous accounts, this point will certainly be easier for you.
4. Use a password manager
To store all your passwords securely, be sure to use a password manager. Many password managers have a password generator that makes it easier for you to think about new passwords every month. You can also store your passwords encrypted in SimpleumSafe. The SimpleumSafe has a password check to test the suitability of new passwords.
5. Regularly set up updates
Security starts with the timeliness of your software. Stay up to date everywhere and always and follow the update notes as quickly as possible. This applies to operating systems, browsers, virus software, etc.
6. Use two-factor Authentication
In addition to a password (from memory or password manager), two-factor authentication requires further information generated by a device. As a result, an attacker must have your password and device. If an account offers the option for two-factor authentication, then use it.
7. Transfer password securely
Never enter your password on public computers, such as the Internet Café. If you use foreign Wi-Fi connections (e.g. café, hotel) then use a VPN service. They use encrypted channels to transfer your password to the respective system and you cannot be intercepted in the often unsafe Wi-Fi.
8. Never send passwords
Whether the boss, wife or neighbor is asking for: Never send your password by email, messenger, etc. Also, stay most attentive to pishing emails. Fake mail is becoming more and more professional and ask for your personal information to be shared. Your bank and other companies will never ask you by e-mail to send your confidential data.
9. No paper, no post-its
Never write down your passwords on paper! Also not if you  "hide it well ," except you own a safe. Always save passwords encrypted. Best in a password manager or other encryption software. Also, don't store your passwords unencrypted on the hard drive.
10. Security queries
For security queries, select only answers that only you can know on your own. Consider beforehand what information you have already shared through social networks. Because these are easy to spy on.
11. Secret
The security of your passwords depends primarily on keeping them (always) secret! Do not use paper, do not store them unencrypted, never send passwords etc.
12. Create new accounts thoughtful
In the future, think carefully about whether you really need to create a new account right away.
We hope to have helped you with our tips. Change your passwords regularly and delete your old accounts from time to time.
Sincerely yours
Simpleum Team