SimpleumCheck "Security Advisor"
Spectre, Meltdown, WannaCry, Ransomware, Trojan – The horror messages in the area of IT security do not take off. Consumers are increasingly confused and do not know where to start protecting their computer.
We have developed SimpleumCheck to give you a little insight into which security settings exist and which ones you have activated. It is very important to us that SimpleumCheck is also seen as a kind of "learning program". Now you can get a little deeper into how the computer and various programs work, and get information about security settings with the help of the action instructions.
Basic-, Professional- and Paranoid-Check
SimpleumCheck checks seventy parameters on the Mac in three stages and gives you recommendations on how you can improve your security even further.
The Basic-Check and the corresponding changes of the settings are recommended for each user.
The Professional-Check is particularly valid for professional/business use and is also aimed for secret holder etc… However, we recommend that each user also look at these results and consider the recommendations.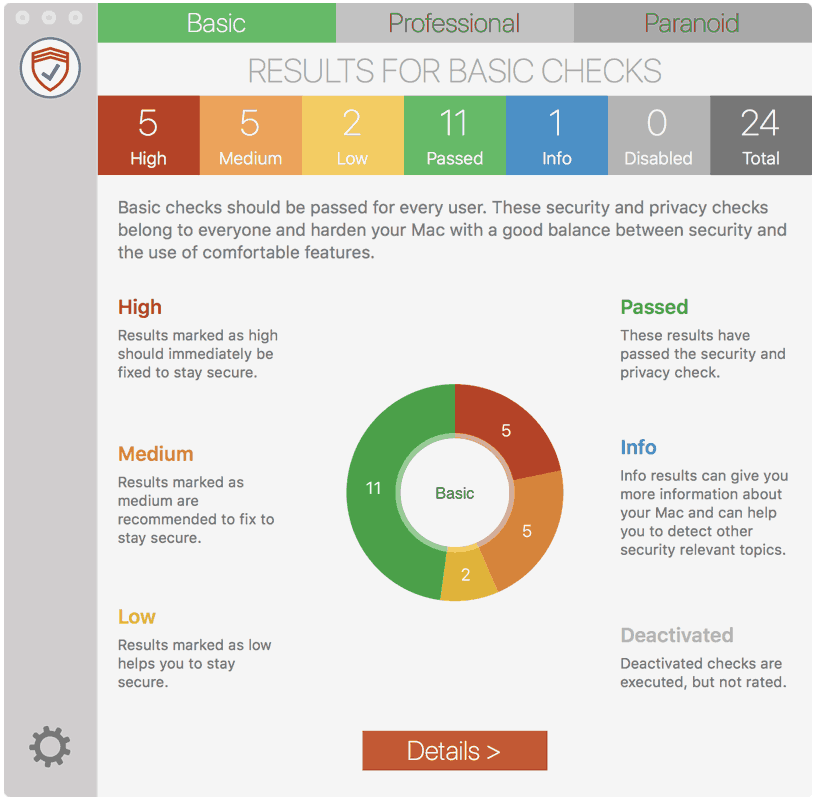 Those who would like to follow the recommendations of the Paranoid-Check are ready to give up comfort and functionality for a high level of security. Here, for example, Bluetooth and the microphone are turned off.
We will add more security checks and explanatory articles over time.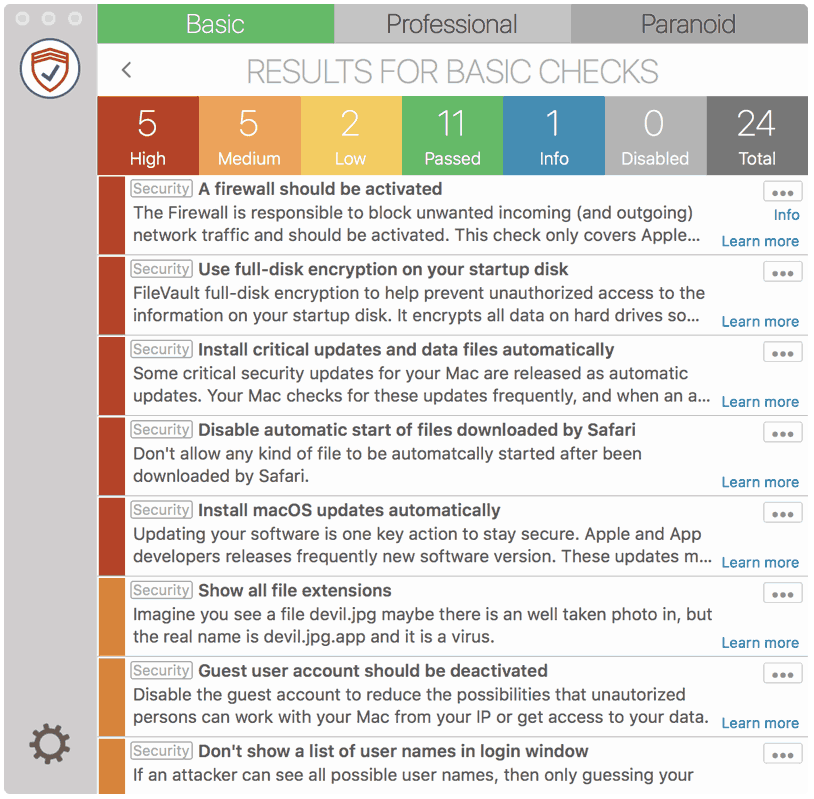 Test results
The test results give you step-by-step information about which setting has been checked. If, for example, the "firewall" is activated, the password hint is displayed?
A click on "Learn More" will show you what you need to turn on or off to improve the security of your Mac.
The data retrieved by SimpleumCheck will remain on your Mac. No data is transferred to any server.
System requirements
macOS 10.11 "El Capitan" or higher
the software is available in Englisch
Do you have questions and/or suggestions for SimpleumCheck? We invite you to send us an e-mail to: support@simpleum.com.
Thank you for your trust and support
Your Simpleum Team