Buy SimpleumSafe 3 - FAQ
How to get SimpleumSafe 3 for each of your devices
SimpleumSafe 3 is available separately for macOS and iOS (iPhone and iPad).
SimpleumSafe 3 is only available via the Apple AppStore.
SimpleumSafe 3 for Mac now has a temporary secure cache of 100 GB, so a non-AppStore version is not necessary for the time being.
How does the purchase work?
Install SimpleumSafe 3 from AppStore (free)
After starting SimpleumSafe 3 for the first time, a purchase dialog will be displayed. There you can buy SimpleumSafe 3 as a subscription or one-time purchase. (The products offered and prices may vary.)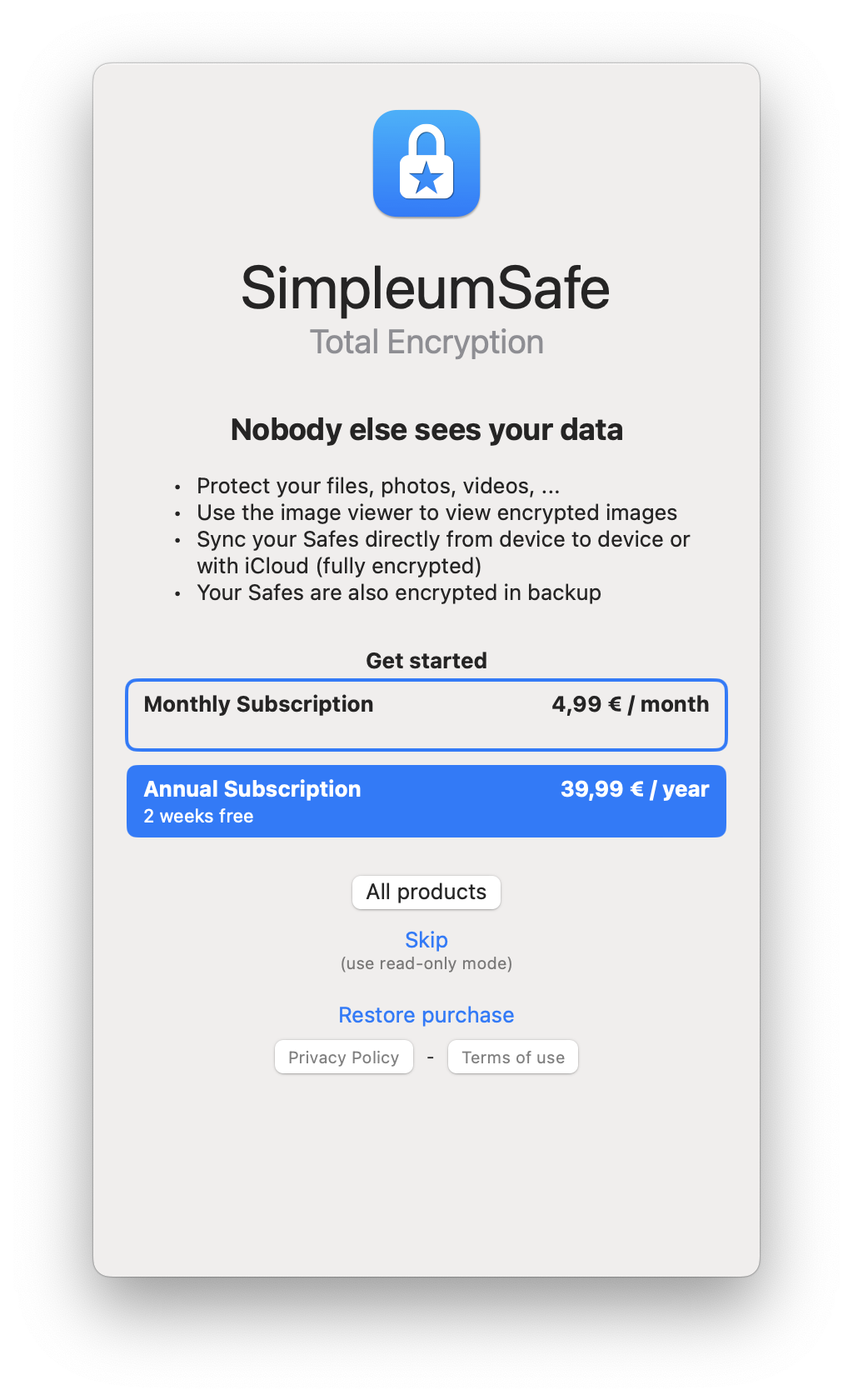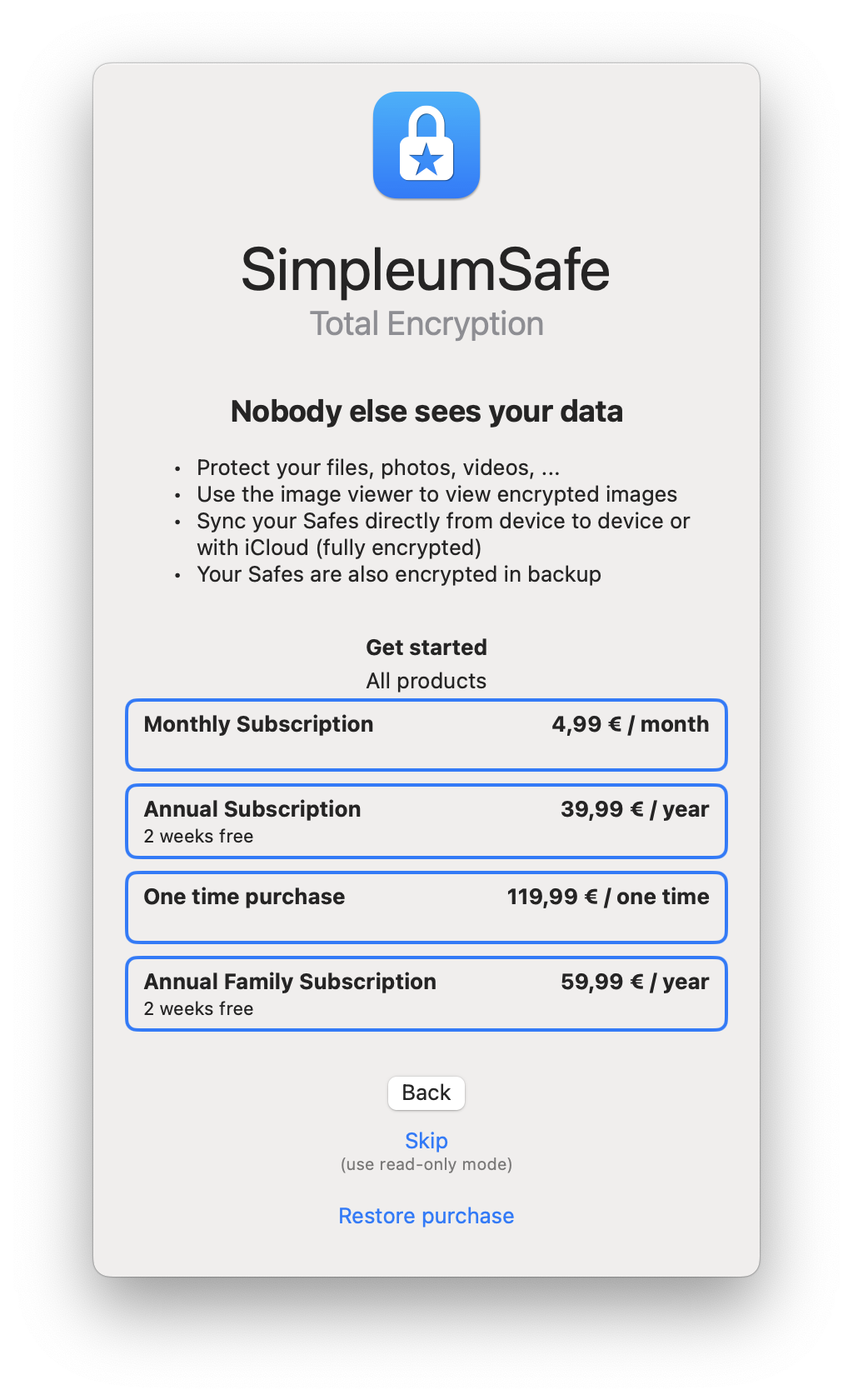 The prices shown may differ from the current prices. The current prices can be seen on the Buy Page.
Enable on additional devices
You can operate SimpleumSafe on 5 additional devices. This means that if you have bought SimpleumSafe 3 for iOS, you can also use it on your iPad etc. to use.
After you have bought SimpleumSafe on one device, you can select the "Restore purchase" option on the other devices in the purchase dialog and then the device will also be activated. This also applies analogously to SimpleumSafe for Mac.
Languages
System requirements
SimpleumSafe for Mac requires macOS 12 Monterey or newer and runs on Intel and Apple silicon chips.
SimpleumSafe for iOS requires iOS 15 or higher and runs on iPhone and iPad.
Questions and Answers
Can I use Family Sharing?
Yes, SimpleumSafe 3 supports Family Sharing for certain subscriptions and one-time purchases.
Make sure you purchase the appropriate subscription. One-time purchases generally have family sharing.
More about Family Sharing (from Apple)
How can I buy with educational discount?
Apple gives educational discounts to schools in the App Store. Please contact your school and ask if they participate in the App Store volume purchase program and how you can participate.
Can I continue to use SimpleumSafe 2?
Of course you can continue to use the previous app.
However, this is no longer being developed.
We will probably not publish any more updates unless there is an error in 2023 that endangers the security of the data.
It can also happen that with a new version of iOS or macOS, the entire app or individual functions no longer work at all or only to a limited extent.
What happens to the Safe and data access in the subscription model if I cancel my subscription? Is it locked behind a paywall?
When you start SimpleumSafe 3 and see the PayWall (e.g. when your subscription has ended), the app switches to a read-only mode.
You can open your Safes, view or export your files.
You cannot create new Safes or import new files into a Safe.
However, you can always export all your files.
Will my one-time purchase expire?
The one-time purchase for SimpleumSafe is valid for the generation of the app you bought it for. You may need to purchase an upgrade when a new generation comes out. A generation covers a period of 3-5 years starting from the first release.
E.g. SimpleumSafe 3 starting from 08.05.2023 (Generation 3)
We use the term generation here on purpose, because it may very well be that we may increase the version number within the next 3-5 years without the need for a new one-time purchase.
How do I get a refund?
We recommend that you try SimpleumSafe before purchasing to see if the app is right for you. You can also contact our support team if you have any questions. If you don't like SimpleumSafe after making a purchase, you must ask Apple for a refund as Apple processes all transactions in its App Store. Because we don't process your purchase, we can't issue refunds ourselves.
When you purchase an app from the App Store, only Apple has access to the purchase information associated with your Apple ID. To protect your privacy, this data is not shared with developers.