How to add files to SimpleumSafe for iOS - SimpleumSafe 2
The permission to share content and files must first be activated on the iPhone.
This is an Apple functionality that is not automatically set up!
We explain here in all steps how to add a photo from the photo library to the SimpleumSafe.
Select a photo in the photo library.
Click the Share button
Now scroll the lower menu at the far right and click on "more"
There you see "Add to SimpleumSafe"
Activate the switch
"ready" and return to the Share Menu
Now you see the icon "Add to SimpleumSafe"
Tap the icon and the SimpleumSafe opens to import the photo
If you haven't activated the permission to share files, you can not add files to the Safe because you do not see the "Add to SimpleumSafe" icon in the Share Menu!
Now you can also add attachments from your mails, such as photo, PDF, Word documents etc., use the  "Add to SimpleumSafe" icon.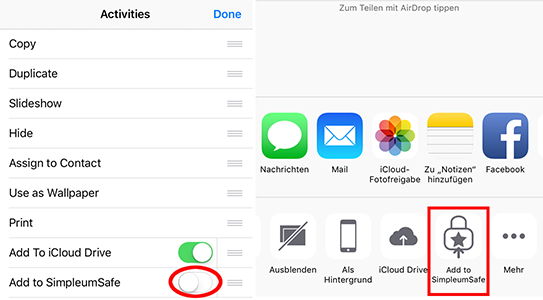 You can also easily import photos from the photo library inside the app.
Click the + icon and the selection for the photo library will open.
You can also take pictures from the app or record a video and save the photos/videos directly in the Safe.