Folder Synchronization - SimpleumSafe 2
For a Mac to Mac synchronization, we offer the folder sync. Here, simply a folder accessible by two Macs, e.g. a network drive (NAS). In this way, synchronization is possible without the Internet. Synchronization via flash drive is possible. This is a secure transmission, which is suitable even for high security requirements.
Folder sync setup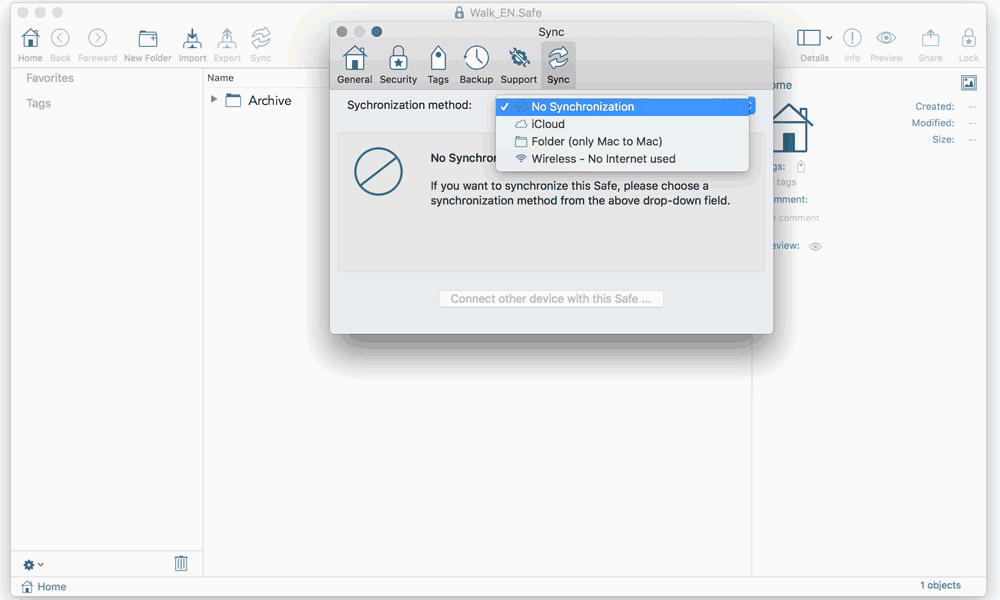 In the Menu: SimpleumSafe → Settings → SyncSelect Folder-Sync (Mac to Mac)
On Mac 1
Select / create and save a synchronization folder.
Connect to Mac 2
export Safe configuration file
On Mac 2
In the menu "Safe > Connect to a synchronized Safe …"
Choose "Mac"
Select the previously saved configuration file
Enter the Safe password
You will see the sync type and the Safe name
Now enter the location of the sync folder, which you have set on the Mac 1.
Lastly, specify where the Safe should be stored.