Blog
Password - 12 creative tips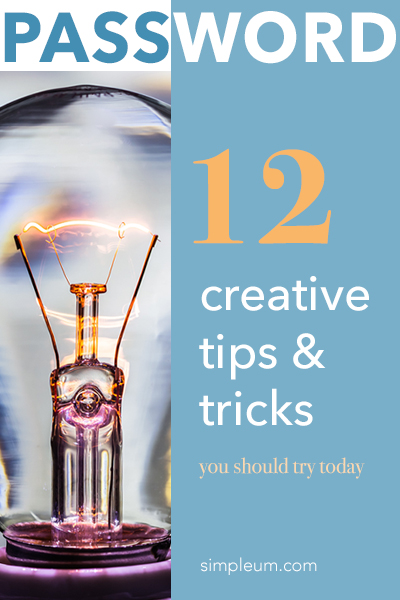 Today we would like to give you some recommendations and tips on the topic of password.
Nowadays passwords are something like door or safe keys to something important, secret or deserving special protection. For this reason, they  deserve our special care. Always consider what other, malicious people can do with your account on your behalf.
Some tips are a bit more elaborate beforehand, but in the long run you can get used to a course of action that does little work.
Basically, the recommendation has prevailed that long passwords are better than complex ones.
Good tips on how to create a strong password are provided by the Federal Office for Information Security (BSI).
Read the (German) article here.
1. Clean up online services and accounts
First, check where you use online services and own accounts. You will be surprised what has been unused for a long time. Spit up outdated accounts and services and delete them. Many of these old accounts still have weak passwords. If these have been hacked, your data, e-mail addresses, etc. will wander through the web.
If you are affected, react immediately!
Make the effort to clean up your accounts. It's worth it!
2. For each account a new password
Give each of your remaining accounts an own password, this will give you higher security. If you have assigned a single password for all accounts, a hack puts all your accounts at risk.
3. Change passwords regularly
Make it a habit to change your passwords on a regular basis in all accounts. It is best to do so every 30 days, but at least every 90 days. If you have previously deleted superfluous accounts, this point will certainly be easier for you.
4. Use a password manager
To store all your passwords securely, be sure to use a password manager. Many password managers have a password generator that makes it easier for you to think about new passwords every month. You can also store your passwords encrypted in SimpleumSafe. The SimpleumSafe has a password check to test the suitability of new passwords.
5. Regularly set up updates
Security starts with the timeliness of your software. Stay up to date everywhere and always and follow the update notes as quickly as possible. This applies to operating systems, browsers, virus software, etc.
6. Use two-factor Authentication
In addition to a password (from memory or password manager), two-factor authentication requires further information generated by a device. As a result, an attacker must have your password and device. If an account offers the option for two-factor authentication, then use it.
7. Transfer password securely
Never enter your password on public computers, such as the Internet Café. If you use foreign Wi-Fi connections (e.g. café, hotel) then use a VPN service. They use encrypted channels to transfer your password to the respective system and you cannot be intercepted in the often unsafe Wi-Fi.
8. Never send passwords
Whether the boss, wife or neighbor is asking for: Never send your password by email, messenger, etc. Also, stay most attentive to pishing emails. Fake mail is becoming more and more professional and ask for your personal information to be shared. Your bank and other companies will never ask you by e-mail to send your confidential data.
9. No paper, no post-its
Never write down your passwords on paper! Also not if you  "hide it well ," except you own a safe. Always save passwords encrypted. Best in a password manager or other encryption software. Also, don't store your passwords unencrypted on the hard drive.
10. Security queries
For security queries, select only answers that only you can know on your own. Consider beforehand what information you have already shared through social networks. Because these are easy to spy on.
11. Secret
The security of your passwords depends primarily on keeping them (always) secret! Do not use paper, do not store them unencrypted, never send passwords etc.
12. Create new accounts thoughtful
In the future, think carefully about whether you really need to create a new account right away.
We hope to have helped you with our tips. Change your passwords regularly and delete your old accounts from time to time.
Sincerely yours
Simpleum Team
---
20 good reasons for SimpleumSafe
Features and benefits at a glance
Are you looking for a simple and secure application to encrypt your sensitive files and folders? We recommend that you store all your files continuously encrypted in one place: SimpleumSafe.
The SimpleumSafe has a friendly and easy-to-understand interface and the procedure is as simple as it is ingenious: drag & drop any file  from your Mac Finder into the open SimpleumSafe and it is immediately encrypted.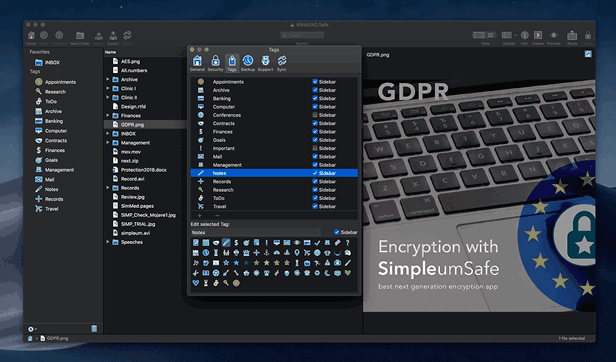 1. A safe place to store and archive all sensitive files encrypted throughout
SimpleumSafe works like a completed safe: a safe place for any type of file to be protected on a Mac or iPhone. An extra dose of security is guaranteed by the continuous encryption: even when the files are viewed and edited, they are encrypted throughout. SimpleumSafe takes a different path than most other encryption programs. Once authorized with a password, the files in the file system will not be provided. Otherwise, they would be completely vulnerable from that moment on. SimpleumSafe recreates its own file system and has its own finder. As a result, the files remain encrypted for all time.
2. File manager
The app's user interface is designed like the Mac finder, so you are able to use the SimpleumSafe like a file manager.
The similarity to the Mac finder also offers the advantage of finding your way around the user interface quickly. All files imported into SimpleumSafe can be edited and organized. Any number of folders can be created and organizational structures can be created that fit the respective needs. Files can be marked as favorites and thus marked for quick access. An extensive catalogue of tags creates further organizational and sorting possibilities.
3. Organize and view files continuously encrypted
Files can be edited in external programs and are still encrypted throughout. For example, if a Word file, stored in the SimpleumSafe, is opened with Word and edited externally, all changes to the file will be available after the saving. Files can also be duplicated, copied, moved, renamed
4. Fotos and Videos
SimpleumSafe has an image viewer with a slideshow function. This allows you to look at several photos in a row without having to open or decrypt them. Everything happens comfortably in the SimpleumSafe.
5. Favorites and Tags
In SimpleumSafe, favorites and tags can make it easier to organize the files. If files have been tagged, they can be displayed in the sidebar. The tag catalogue is extensive and offers a wide range of topics.
6. Comments
Every single file in the Safe can be annotated.
7. Create notes
Using the .txt file, it is possible to create simple notes.
8. Import contacts
SimpleumSafe offers the possibility to import contacts (.vcf).
9. Take photos encrypted
An important feature of the iOS app is the ability to photograph encrypted. The taken photo is immediately stored encrypted in the SimpleumSafe and does not appear in the iOS photo archive.
10. Continuity Kamera
Since iOS 12, photos and scans can be inserted directly from the iPhone/iPad into programs on the Mac. SimpleumSafe works with this "Continuity-Camera " feature.
11. Search function
SimpleumSafe has a search function to easily retrieve files. Texts from the comments are also recorded here. Searches can also be stored in the iOS app.
12. A plus in organization: Create several Safes
Several different Safes can be created in SimpleumSafe. For example, the Safes can be used thematically. Professional and private things can thus be stored separately. Those who value a clean organizational structure of their files may be well advised to create thematic Safes.
13. Unlimited and any size files
The number and overall size of the files is not limited by SimpleumSafe. Only the capacity of the memory used (hard drive, USB stick, cloud storage, etc.) can lead to limitation. From small text files to large video files, everything can be stored in SimpleumSafe.
14. Different locations – encrypt USB stick
A Safe can be stored in different places. On the Mac's hard drive, on a flash drive, a network drive, or in the cloud.
In order to encrypt a flash drive drag & drop an existing Safe from the Mac finder to the flash drive. Or create a new Safe directly on the flash drive.
15. Time-Machine optimized
Each Safe has a format optimized for the Apple Time Machine backup.
16. Extreme Secure Synchronisation
SimpleumSafe allows the Safes to be synchronized between different devices (Mac, iPad, iPhone). There are currently three types of synchronization: iCloud, wireless (no Internet), or with a common folder (Mac to Mac only).
Even if the synchronization data was stolen from the cloud and the password became public, the data still cannot be decrypted. In addition to the password, the key file is also needed to decrypt a Safe. However, the key file is not transmitted directly from the cloud, but manually.
The data in the Safe cannot be found through the Mac Spotlight search.
17. Digital legacy
With the SimpleumSafe, it is also possible to regulate a digital estate. It is highly recommended during your lifetime to provide an overview of all accounts with usernames and passwords. This offers the bereaved families the opportunity to decide in the sense of the deceased what should happen to the "digital heritage " on social networks etc. Passwords for online services, bank accounts, etc. can also be stored here and, if necessary, provided with notes. Important documents that regulate the estate will be found in the SimpleumSafe as well as a safe place, as well as online contracts etc. That Safe password can be deposited with the notary, for example.
18. Password-based and recovery password
SimpleumSafe is not a service you sign up for online. The software opens its own interface, similar to the Mac Finder, in which you must log in with a self-defined password. This way, you stay in control at all times. Simpleum and its employees have no access to your Safes and do not know your passwords. Just as a real Safe has a spare key, you can have a recovery password created in the SimpleumSafe that can be used like a spare key.
19. Continuous development
SimpleumSafe has been further developed since 2016. The subscription model introduced in 2023 improves the economy and thus also the future security of the app. Updates are released regularly.
20. GDPR compliant
SimpleumSafe is a suitable technical solution for the protection of digital personal data according to GDPR for Mac, iPhone and iPad.
---
Switch from Hider2 to SimpleumSafe
Hider 2 by MacPaw was discontinued on 2019-07-10.
SimpleumSafe is a suitable alternative / replacement to Hider 2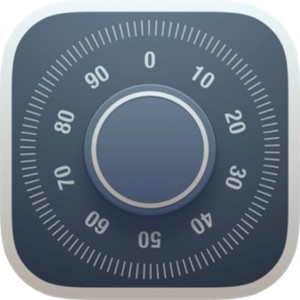 SimpleumSafe is an encryption and document management solution for macOS and iOS and is suitable for both private and business use. Unlike Hider 2, files are not decrypted directly in the file system for use. SimpleumSafe has its own Finder and can work directly with the encrypted files. While Hider 2 at encryption and decryption leaves data traces on the Mac this is not the case with SimpleumSafe.
Reasons for SimpleumSafe (especially for Hider 2 users)
Secure encryption with AES-256
Synchronization: iCloud, Folder, Wireless
For macOS and iOS
GDPR compliant
Arbitrary file types
Multiple Safes
Safes e.g. on USB stick or external hard drives
No size limits
Active further development
Made in Germany
Secure document editing
No cleartext traces
Built-in secure image viewer
iOS: encrypted photography
Switch from Hider 2 to SimpleumSafe
It's a good idea to create a small Safe to get to know and familiarize yourself with this Safe with SimpleumSafe. Since you can create as many Safes as you like, this has no effect on the data taken over by Hider 2.
Create a Safe for the Hider 2 data
It's a good idea to create a small Safe to get to know and familiarize yourself with this Safe with SimpleumSafe. Since you can create as many Safes as you like, this has no effect on the data taken over by Hider 2.
It is recommended to perform the data transfer on a Mac
Create a Safe
Open the created Safe in SimpleumSafe
Decrypt your data within Hider 2
Select the context menu > Show in Finder
Import the files into SimpleumSafe. For example, by dragging (importing) the file or folders into SimpleumSafe
Done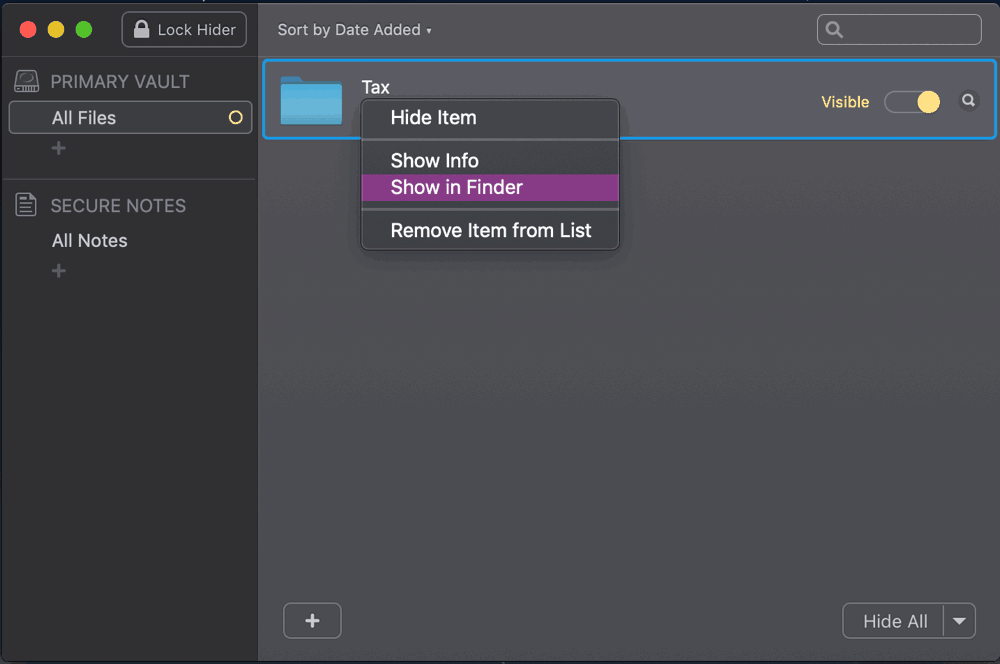 Additional Information
SimpleumSafe exists only for macOS and iOS, not for Windows
---